Charging your car has never been easier.
Whether you are travelling in your car or going somewhere, the Zaptec Go offers the ideal way to power your journey. Using leading Norwegian sustainable technology, an award-winning charging station has been developed that is both smart on the inside and stunningly beautiful and simple on the outside. Discover now how the Zaptec Go fits perfectly with your electric car and home, allowing you to go wherever you want.
We understand that you prefer to charge your electric car at home. Zaptec Go is a sophisticated charging station intended for private garages and parking spaces in detached houses and holiday homes. The charger gives you the freedom to charge your electric car at home at your convenience.
With its compact size of about a tablet and a weight of just 1.3 kg, the Zaptec Go fits seamlessly into your home. You don't have to worry about taking up unnecessary space and you also have a choice of 6 beautiful colours to perfectly match your home.
Height: 242 mm Width: 180 mm Depth: 75 mm
Charge up to 22kW, equivalent to 100km of driving after an hour of charging.
The safest charging point
Certified with the highest safety standard.
By using WiFi or 4G LTE-M, it keeps itself up-to-date with new features.
With a function-lit socket and an option for an RFID chip.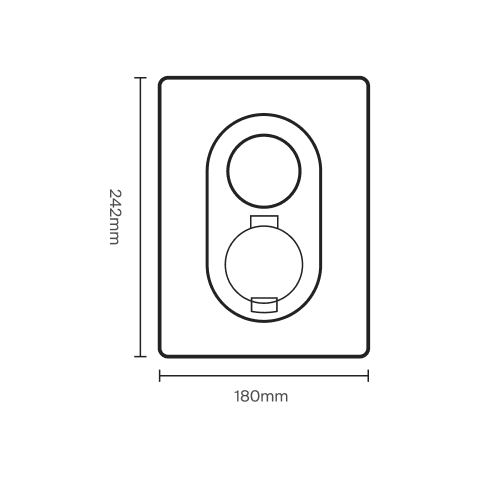 Dimensions (mm)
Height: 242 x
Width: 180 x Depth: 75
Weight
1.3 kg
Temperature range
-30°C to +40°C
Installation circuit
Max. 40 A fuse on installation circuit for charging stations
Installation networks, Voltages
TN, IT and TT 230 VAC ± 10% 400 VAC ± 10%
Max. power and charging points
22 kW at 32 A/3-phase (TN network) 12.7 kW at 32 A/3-phase (IT network) 7.4 kW at 32 A/1-phase IT/TN
Charging connector
IEC 62196-2 Type 2 Female Electronic lock, can be permanently locked by the user
Earth fault protection
RDC-DD 6 mA in accordance with IEC 62955. Electronic, automatic reset by reconnecting the Type 2 cable
Communication interface and cloud connection/network
4G LTE-M WiFi 2.4 GHz, IEEE 802.11 b/g/n (channel 1-11) HMI,
Identification and configuration
Bluetooth Low Energy (BLE 4.1) RFID/NFC reader – Mifare Classic, Type A RGBW LED circle for device status 1.2 W when in standby operation
Looking for a charging solution?